Durasid Foresta
Via a unique process of digital printing, the rigid foam façade panels are provided with a realistic wood design that can hardly be distinguished from natural wood.
Siding with V-groove 250 mm: This model can be placed both horizontally and vertically.
Profile types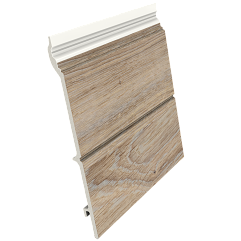 Siding with V-groove 250 mm - wood design
Available colours
Durasid Foresta cladding profiles are available in various realistic wood designs.
Calculator
Calculate the number of Durasid panels you need for your facade with our online calculator app.
Parts
Description
Item number
Colours
Length
Grain texture
Two-part edge trim
524160
100 - RAL 8008(001)
101 - RAL 8003(002 & 004)
102 - RAL 7006 (003 & 007 & 008)
103 - RAL 1019 (005)
92 - RAL 1015 (006)
3 m
Starter trim
524200
Black
3 m
Ventilation profile
524250
Black
2,5 m
Invisible connector
524391
96 Quartz grey
Two-part lacquered aluminium internal-external corner
524460
100 - RAL 8008(001)
101 - RAL 8003(002 & 004)
102 - RAL 7006 (003 & 007 & 008)
103 - RAL 1019 (005)
92 - RAL 1015 (006)
3 m
Lacquered aluminium corner profile
524560
100 - RAL 8008(001)
101 - RAL 8003(002 & 004)
102 - RAL 7006 (003 & 007 & 008)
103 - RAL 1019 (005)
92 - RAL 1015 (006)
3 m