Durasid Original
Durasid sidings are made from a durable PVC rigid foam core on top of which comes an extremely resistant, co-extruded top coat that has been given a wood grain texture.
Three profile types are available, all cut to 5-metre lengths:
single siding 167 mm: an overlapping model (lap siding) which has a natural appeal
rabbet 167 mm: this model can be fitted both horizontally and vertically
double siding 333 mm: a double model (rabbet section) which ensures even faster fitting

Profile types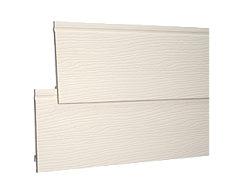 single siding 167 mm - woodgrain embossed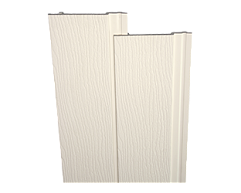 Vertical siding 167 mm - woodgrain embossed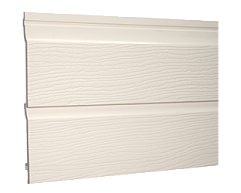 Double siding 333 mm - woodgrain embossed
Available colours
Durasid Original cladding profiles are available in various timeless and soothing RAL colours and wood colour tones.
Calculator
Calculate the number of Durasid panels you need for your facade with our online calculator app.
Parts
Description
Item number
Colours
Length
Grain texture
Two-part edge trim
524150
90 - White RAL 9010
91 - Cream RAL 9001
92 - Sand RAL 1015
93 - Grey RAL 7035
94 - Camel
95 - Anthracite RAL 7016
3 m
Two-part lacquered aluminium edge trim
524160
91 - Cream RAL 9001
92 - Sand RAL 1015
93 - Grey RAL 7035
94 - Camel
95 - Anthracite RAL 7016
96 - Quartz Grey RAL 7039
99 - Blue grey RAL 7031
3 m
Starter trim
524200
Black
3 m
Ventilation profile
524250
Black
2,5 m
Joining profile
524300
90 - White RAL 9010
91 - Cream RAL 9001
92 - Sand RAL 1015
93 - Grey RAL 7035
94 - Camel
95 - Anthracite RAL 7016
3 m
Standard joiner piece (double)
524350
90 - White RAL 9010
91 - Cream RAL 9001
92 - Sand RAL 1015
93 - Grey RAL 7035
94 - Camel
95 - Anthracite RAL 7016
96 - Quartz Grey RAL 7039
99 - Blue grey RAL 7031
Invisible joiner piece (double)
524351
90 - White RAL 9010
91 - Cream RAL 9001
92 - Sand RAL 1015
93 - Grey RAL 7035
94 - Camel
95 - Anthracite RAL 7016
96 - Quartz Grey RAL 7039
99 - Blue grey RAL 7031
Standard joiner piece (single)
524360
90 - White RAL 9010
91 - Cream RAL 9001
92 - Sand RAL 1015
93 - Grey RAL 7035
94 - Camel
95 - Anthracite RAL 7016
96 - Quartz Grey RAL 7039
99 - Blue grey RAL 7031
Invisible joiner piece (single)
524361
90 - White RAL 9010
91 - Cream RAL 9001
92 - Sand RAL 1015
93 - Grey RAL 7035
94 - Camel
95 - Anthracite RAL 7016
96 - Quartz Grey RAL 7039
99 - Blue grey RAL 7031
Invisible joiner piece (vertical siding))
524362
90 - White RAL 9010
91 - Cream RAL 9001
92 - Sand RAL 1015
93 - Grey RAL 7035
94 - Camel
95 - Anthracite RAL 7016
96 - Quartz Grey RAL 7039
99 - Blue grey RAL 7031
Two-part internal-external corner
524450
90 - White RAL 9010
91 - Cream RAL 9001
92 - Sand RAL 1015
93 - Grey RAL 7035
94 - Camel
95 - Anthracite RAL 7016
3 m
Two-part lacquered aluminium internal-external corner
524460
91 - Cream RAL 9001
92 - Sand RAL 1015
93 - Grey RAL 7035
94 - Camel
95 - Anthracite RAL 7016
96 - Quartz Grey RAL 7039
99 - Blue grey RAL 7031
3 m
Corner profile
524500
90 - White RAL 9010
91 - Cream RAL 9001
92 - Sand RAL 1015
93 - Grey RAL 7035
94 - Camel
95 - Anthracite RAL 7016
3 m
Lacquered aluminium corner profile
524560
91 - Cream RAL 9001
92 - Sand RAL 1015
93 - Grey RAL 7035
94 - Camel
95 - Anthracite RAL 7016
96 - Quartz Grey RAL 7039
99 - Blue grey RAL 7031
3 m