Durasid Urban
The Urban sidings, with a light structured top layer, create a clean but warm appearance. This collection fits perfectly in contemporary architecture.
Rebate 167 mm: This model can be placed both horizontally and vertically.
Profile types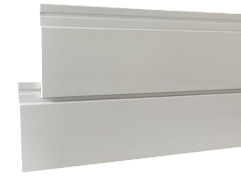 Vertical siding 167 mm - light structure
Calculator
Calculate the number of Durasid panels you need for your facade with our online calculator app.
Description
Item number
Colours
Length
Grain texture
Two-part edge trim
524150
91 - Cream RAL 9001
92 - Sand RAL 1015
93 - Grey RAL 7035
95 - Anthracite RAL 7016
3 m
Two-part lacquered aluminium edge trim
524160
91 - Cream RAL 9001
92 - Sand RAL 1015
93 - Grey RAL 7035
95 - Anthracite RAL 7016
96 - Quartz Grey RAL 7039
3 m
Starter trim
524200
Black
3 m
Ventilation profile
524250
Black
2,5 m
Invisible joiner piece (vertical siding))
524362
91 - Cream RAL 9001
92 - Sand RAL 1015
93 - Grey RAL 7035
95 - Anthracite RAL 7016
96 - Quartz Grey RAL 7039
Two-part internal-external corner
524450
91 - Cream RAL 9001
92 - Sand RAL 1015
93 - Grey RAL 7035
95 - Anthracite RAL 7016
3 m
Two-part lacquered aluminium internal-external corner
524460
91 - Cream RAL 9001
92 - Sand RAL 1015
93 - Grey RAL 7035
95 - Anthracite RAL 7016
96 - Quartz Grey RAL 7039
3 m
Corner profile
524500
91 - Cream RAL 9001
92 - Sand RAL 1015
93 - Grey RAL 7035
95 - Anthracite RAL 7016
3 m
Lacquered aluminium corner profile
524560
91 - Cream RAL 9001
92 - Sand RAL 1015
93 - Grey RAL 7035
95 - Anthracite RAL 7016
96 - Quartz Grey RAL 7039
3 m