Durasid Elegance Cladding
The result of using a narrow embossing on the cellular boards with a horizontal slat wall siding gives a very elegant cladding system.
Slat wall siding 250 mm: a horizontal model with a narrow slat wall structure.
Profile types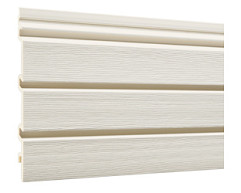 Slat wall siding 250 mm
Available Colours
Durasid Elegance cladding profiles come in a variety of timeless RAL colours and wood shades.
Calculator
Calculate the number of Durasid panels you need for your facade with our online calculator app.
Parts
Description
Item number
Colours
Length
Grain texture
Two-part lacquered aluminium edge trim
524160
91 - Cream RAL 9001
92 - Sand RAL 1015
93 - Grey RAL 7035
94 - Camel
96 - Quartz Grey RAL 7039
3 m
Starter trim
524200
Black
3 m
Ventilation profile
524250
Black
2,5 m
Invisible joiner piece (single)
524380
91 - Cream RAL 9001
92 - Sand RAL 1015
93 - Grey RAL 7035
94 - Camel
96 - Quartz Grey RAL 7039
Two-part lacquered aluminium internal-external corner
524460
91 - Cream RAL 9001
92 - Sand RAL 1015
93 - Grey RAL 7035
94 - Camel
96 - Quartz Grey RAL 7039
3 m
Lacquered aluminium corner profile
524560
91 - Cream RAL 9001
92 - Sand RAL 1015
93 - Grey RAL 7035
94 - Camel
96 - Quartz Grey RAL 7039
3 m